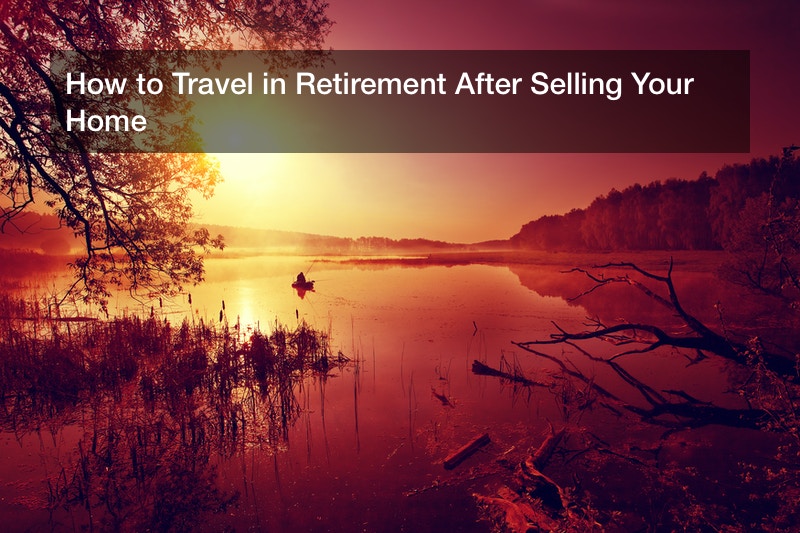 For those out there in the work force, retirement remains the ultimate goal. After many long years of working hard, we aspire to finally enjoy our later years. Retirees can sit back and reflect on those years. For some retirement seems like an ending. That could not be further from the truth. Retirement can be a new beginning. Retirees can try new activities and create new memories. You might feel like they have a new lease on life. One of the most popular activities among retirees is traveling. You may have wanted to find some of these new experiences, but never had the time. Right now is the perfect time to pick up and go. Make sure to follow some of these pointers while learning how to travel in retirement.
Getting on the same page as your partner
The vast majority of vacations are not solitary endeavors. There are whole family vacations, spanning generations. Mom, Dad, and the kids are also frequently seen on the road together. Retirees may decide to go as just a couple. These trips can create some warm enriching memories for those in their golden years. In planning how to travel in retirement, it is vital that you get on the same page as your spouse. One partner may be a traveling enthusiast, while the other can take it or leave it. Having open and honest communication will help alleviate any concerns. Money is often a significant obstacle in travel. If you are financially strapped, a large vacation may not be feasible. Talk with your spouse and plan out a budget beforehand. You can look into some affordable options to help you save money. You can ditch the fancy hotel for an Airbnb instead.
Where to go?
Deciding on where to go is one of the most important questions when deciding how to travel in retirement. It all comes down to personal preference. Do you plan on travelling to an international location or staying stateside? Are you looking for a relaxing vacation by the beach? Maybe a road trip full of sightseeing adventures is more your style. Whatever you prefer, you will have a number of important decisions to make.
While deciding where to go, one of the more important aspects is figuring out how to get there. You can go by land in a car or RV. You can also choose the sea option with a cruise. Another popular method is through the air in a plane. All three of these modes of transportation have many benefits.
Flying
Flying in a plane is one of the most popular ways to travel. Its greatest benefit is the convenience. Traveling by road can do a number on your vehicle. Being in a cramped space for an extended period of time can have an adverse effect on your psyche. Cruises are quite popular but are limited in choices. If traveling to Las Vegas is in your plans, then a cruise is not an option. Flying can get you to your destination in just a few hours. If you are choosing to fly, make sure to remain up to date on the available flight schedule. This will help alleviate a lot of stress on your departure day. You will also want to keep yourself informed on the flight regulations. Make sure that you know what is and is not allowed on the flight. The last thing you want is to be pulled aside by airport security.
Driving
Purchasing plane tickets can be a costly endeavor. Some travelers will forgo the plane for a more affordable option. They will pack up the vehicle and hit the road. There are many advantages to the road trip method. When you are driving, safety should always be your number one priority. Accidents can be inevitable with a driver averaging a car accident once every 17.9 years. While out on the road, it is important to get a good night's rest every night to prevent accidents.
One of the greatest pluses to going on a road trip is the sightseeing. On the way there, you can see all the great little sights that this country has to offer. Sometimes you might have your "stops" all mapped out. Other times you might just pull off the next exit to see some intriguing attraction you saw advertised on some billboards. These special attractions can create some great memories. Consider them as you learn how to travel in retirement.
As you learn how to travel in retirement, you must consider the mode of transportation. For the road trip method, there are more options than just your car. Cars can be cramped and may not be able to hold all of your belongings. Travel trailers are a great answer to this problem. Say, for example, you're planning on riding an ATV on your trip. Travel trailers can accommodate your larger belongings.
If you are in the market for trailers, there are a number of affordable options. Look out for used trailers for sale for great rates. Some people may be apprehensive purchasing used items, but that does not mean that they're of poor quality. With pertinent research, you can find a great used trailer that can meet your needs.
When heading out on the road, you will want to make sure that your vehicle is in tip top shape. Sometimes your vehicle may go south while you are out on the road itself. For example, an object may hit the glass and your windshield is cracked. You will then need to find a quality windshield repair service. When an incident occurs while you are at home, finding someone to fix it is a relatively simple process. When out on the road, it is a little trickier.
You might find yourself in unfamiliar territory and not know who to contact. You'd be advised to research the available auto service providers in the area. If you stop at a visitors' center, they should have pamphlets with the relevant information. You can also conduct research beforehand. If you know what areas you'll be passing through, keep note of the community websites. They should have information on the businesses in the area, such as an auto glass or glass and mirror installations company to fix that broken windshield you might have. These are all important items to consider as you learn how to travel in retirement.
The relaxing vacation
There are many different kinds of vacations. Whether you are going by land, sea, or air, once you arrive at your destination you will have many options for entertainment. For many travelers, a rest and relaxation vacation is their comfort zone. The hustle and bustle of everyday life can be a stressful time. They use these vacations to unwind and get their lives on track. They may not be interested in all the sights. Adhering to a schedule as they navigate these attractions may bring out more stress than enjoyment. They may prefer a nice relaxing stay on the beach, soaking up the sun. This could be especially true for retirees. A vacation full of attractions may have been their choice in their younger years, but they're now looking for something more subdued. As you learn how to travel in retirement, the relaxation vacation is a great option.
A great way to relax while on vacation is to visit a spa. A spa presents you with an opportunity to be pampered. You can truly relax and indulge in the experience. Another popular type of spa is the med spa. These spas not only help you relax but are beneficial to your health. If you are on vacation, you do not want to ruin it with a health emergency. A visit to these spas will give you a complete reconfiguration of your body. If your vacation is that of the relaxing nature, a visit to a spa should be in the cards. If you're deciding how to travel in retirement, the relaxing vacation is a great option.
The active vacation
For some deciding how to travel in retirement, they may not want a nice relaxing time away. They would classify themselves as "doers" and want a trip with numerous activities. Amusement parks, museums, and sporting events are just some of the activities travelers love. There are many different options for the active vacation.
Traveling to a historic location is popular among tourists. Parents might choose these destinations so that their children might learn something while they are away from school. This may not seem like a desired location for retired travelers. They can, however, still be a great option for them. Older generations, years removed from their education, may think they have learned all they have to. There is always room for more knowledge. Those of the older generation may enjoy learning something new. A visit to a historical site can be a great active vacation. Just find someplace to stay with a garage and a quality garage door installation to keep any materials you bring safe.
Finding somewhere unique
When choosing your destination, some locations are more popular than others. New York, Los Angeles, the Hawaiian Islands, and the numerous beaches across the country remain some of the trendiest vacation spots for travelers. While these places are great, some travelers may be looking for something different. There are a number of different locales that may not immediately spring to mind when planning your trip. You can, however, create some great and unexpected memories there.
Those in retirement have numerous opportunities to experience new things and create some new memories. Their greatest resource is time. Work and family life are often the reason for forgoing some of these experiences over the years. Retired people may want something new and unique now that they have the time. It can help them find a new perspective. A couple may have always gone to the beach for their family vacations. With their kids all grown, they now can do something just for themselves. A couple of country music enthusiasts may love to make a trek to Nashville, Tennessee to see the Grand Ole Opry. A theatre-loving couple may struggle to find affordable Broadway tickets. They can indulge in a performance from a touring production that is just as entertaining.
Selling your home
Frequent travel is not the only new experience that retirees may have. One of the more radical changes they might do is selling their homes. In your younger years, purchasing a house was a complicated endeavor. The size of the home was a significant factor. You needed a home for your entire family. Now your children have moved out and started families of their own. That larger home is best suited for families. For an older couple, they may not need all of that space. Retirees are often looking for something smaller. if you are selling your home, there are a number of important steps to take. If it is in good condition, you might be selling a home as-is. Other homeowners may need a complete renovation in order to appeal to the potential buyers.
Nobody wants to buy a home with a shoddy roof. Before selling your home, you will want to make sure that the roof is in tip top shape. A quality roofing services company can identify and rectify any potential problems. If you are looking to save money, consider scheduling your appointment during the "offseason." Roofers are busiest during the spring and summer months. The company may offer some great rates during the winter months.
Plumbing issues can also be major thorns in the side for a homebuyer. An older home may have inadequate plumbing. An exceptional plumbing company can help solve all potential plumbing issues before they snowball into something worse. When purchasing a home, buyers consider how much they are willing to invest in the renovation process. If they have to devote the majority of their budget into fixing the issues with the home, it is not even worth it.
Retirement is a new phase in life, but it can be quite the exciting experience. Downsizing doesn't need to be a scary process. You can sell your large, no longer necessary, home for a smaller more convenient residence. By putting in the effort, you will sell your home in no time.
Whether you are selling your home or traveling, or both, retirement can be a new and exciting experience. You have a new lease on life, and you can start seeing all that this world has to offer. You will acquire so much knowledge as you learn how to travel in retirement.