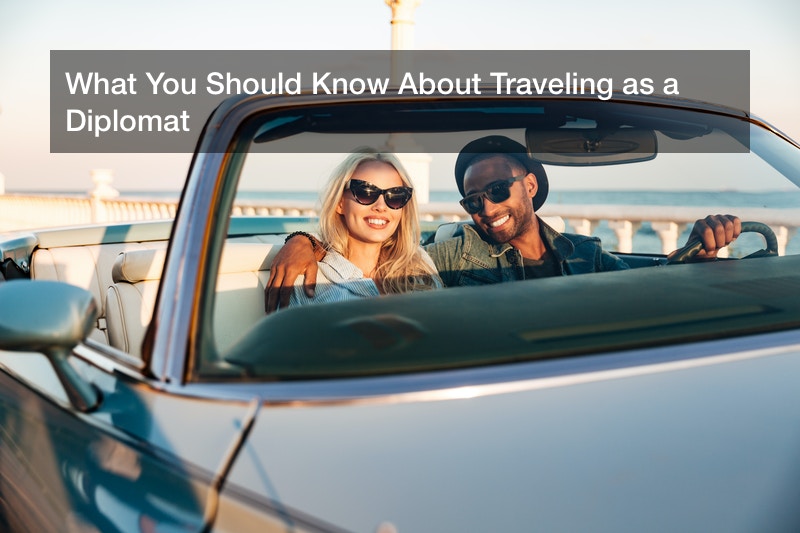 Who is a diplomat?
If you don't already know, a diplomat is a type of government official who carries out the foreign policy of the United States. While you might think that a traveling diplomat is constantly moving, this isn't always the case. Truly, the question "who is a diplomat" has come to take on many different meanings as the role has evolved.
Nowadays, just about anyone can be a diplomat with the right education. Most diplomats have a Bachelor's and Master's degree in something political or relating to humans. As such, it's not uncommon to see anthropologists, political scientists, or even religious officials venturing into diplomatic territory.
Their jobs might differ depending on diplomatic ranking. There are four primary forms of diplomat: an ambassador, an envoy, a minister, and charge d'affaires. These titles are similar as you go from country to country. All of these people work to represent and/or protect their nation's interests while abroad.
So, who is a diplomat? A national representative that works abroad. But what do they do?
What does a diplomat do?
We already know that a diplomat is in charge of representing their country's interests while aboard, but that doesn't explain what they do in their day-to-day job. In short, a diplomat will help to maintain relationships between countries or form new relationships from scratch. They often cover issues relating to:
Trade, including how to help trade prosper between the two nations. The diplomat might also give advice to the foreign nation or report on any trade issues to the government agency from which they were sent. In some cases, the U.S. diplomat will also introduce agencies to helpful contacts.
Peace, including peace between the diplomat's country and the foreign country they are visiting. This might also be between the foreign country and another country. In some cases such as these, the diplomat can act as an advisor.
War. Should any political conflict break out between countries or within a country, this is important information for the diplomat's country to know about.
Human rights, including political issues, economic deficits, civil rights violations, and more.
Economics. This includes aspects of trade, but it also encompasses economic innovation, stocks, market fluctuations, and more.
Culture. We don't know everything about every country we are partnered with. Diplomats play an important role in tracking cultural developments and noting any changes. For example, it's common for families in the United States to rely on an estate planning attorney in the event of a loved one's death. In a country like Mexico, however, the family is usually capable of handling the final wishes of the loved one.
And so much more
During their time abroad, diplomats might also establish treaties and perform negotiations on behalf of the political entity that they are representing. Another important duty is reporting information back to government officials that might impact their nation's interests (in this case, the United States' interests). In some ways, they are similar to lawyers. After all, a probate lawyer will have to offer ample information, engage in mediation, establish settlements, and more. It makes sense that the average diplomat will spend up to three years at a time in any given country.
With so many countries to visit, it makes sense that you'd wonder how a diplomat hopes to get around. After all, if you're considering becoming a diplomat yourself, this is an important aspect of your job.
Here's what you should know about traveling as a diplomat and what you should expect if you ever become one:
First thing's first: Get a visa
It's hard to imagine any politician doing their job properly without a passport and visa. But this isn't as simple as getting a vacation visa. After all, diplomats will spend years in one location in order to glean as much information as they can between the two countries. As such, it's important to know which visas are available to diplomats traveling abroad.
All diplomats need a passport, but they need a special type of visa to travel to another country on government business. According to the U.S. Department of State, all diplomats coming into the United States must obtain an A-1 or A-2 visa before entering the country. Should you have a family member joining you on your journey, renewing their visa is also essential.
If you're a United States diplomat, these rules will vary depending on which country you visit. Keep in mind that there may be travel restrictions and time restrictions associated with the visa you receive. If any aspects of your visa are violated, you may be deported back to the United States.
How diplomats travel
Diplomats typically travel like anyone else, though their costs may be covered by the government. As a result, diplomats will drive cars, ride in boats, and fly on airplanes to their necessary assignments. As much as you want to be like James Bond, your government probably won't be in contact with motorcycle dealers for your travels.
If the U.S. diplomat is driving to their location (say, if it's in Mexico or Canada), auto insurance and a valid driver's license is a must. More often than not, a diplomat will be driving in a car that isn't their own. Without the proper coverage, any accident might yield significant burdens on the driver.
What about traveling while abroad?
Some diplomats may be on-call 24 hours a day, seven days a week, depending on the assignment. But other diplomats may have free time to explore the country in which they are visiting. When diplomats travel abroad they have a couple of options: rent a car or opt for local transport.
In most cases, local transport is enough. Between buses, trains, and the occasional boat from reputable boat dealers, most government officials are able to traverse their new country without too much trouble. Even locations without railways typically have a regular bus schedule.
In other cases, the government official might be tied to the schedule of someone else. Government officials from the foreign country may pick up and drop off the U.S. diplomat so that all meetings are attended on time. This usually takes the form of a black car service or limousine, complete with upgraded heating and air conditioning services. However, a car service might be utilized in order to subdue the risks associated with traveling abroad After all, just about everyone should worry about being pickpocketed or robbed while abroad. If you don't fit into the local community, you're apt to stick out like a sore thumb. If you're wearing a suit and tie in the desert, there will be no doubt when someone asks who is a diplomat. And sore thumbs might be carrying money on their person. Diplomats don't always get this top-tier service from the foreign country that they are visiting, but this is sometimes an option in particularly crowded or isolated areas.
Diplomats might also want to drive while they are stationed in a foreign country. Most rental cars are easily available to visiting Americans in Europe where driving laws are quite similar. Just be sure to check if an international driver's permit is required. You should seek out this type of permit before arriving in the foreign country to ensure you're not breaking any laws. A car accident lawyer won't be happy to hear that you tried renting a car without the proper paperwork.
However, diplomats receive the unique ability to go where most travelers cannot. That means that they might be stationed in war zones or other treacherous territories. It's common for just about every diplomat to serve in an area of the world that is experiencing war, social unrest, or economic difficulties.
That's why many government agencies will also work with commercial auto insurance companies to go over information about your time spent abroad. In the event that you need to drive a bus, navigate a large truck, or take over for an envoy, you might also need to get your CDL license. Otherwise, an auto accident attorney might be breathing down your political official's neck.
A diplomat truly needs to be flexible when it comes to doing their job most efficiently. So, who is a diplomat? A jack of all trades. Keep in mind that most international laws grant all diplomats certain rights and immunities when it comes to safety and performing their job.
The tough stuff
But that doesn't mean being a diplomat is all fun and games. It's hard work and traveling in a foreign country isn't always easy, especially if there are language barriers and economic divides.
The salary of a diplomat can swing wildly, ranging from $35,000 per year all the way up to $100,000. While most housing and car rentals are subsidized by the U.S. government, that doesn't mean everything is handed to you. If you want to go to the bar with a few new friends after work, you will likely have to order in the native tongue and pay with their currency — not U.S. dollar bills. On top of that, the housing you are granted is on par with what the locals have: in England, you might get a loft. In the tropical rainforest, you might miss the common amenities of home. This doesn't mean you're sleeping on something akin to garage flooring, but being prepared for a little discomfort will do you good on the road. If you are able to bring your spouse, in many cases, they aren't able to take on a job. Can your diplomat salary cover the living costs of two people? This is made even worse when harsh climates, social unrest, and high rates of crime can keep you up at night.
Luckily, there will always be an embassy to rely on when the going gets tough. While they likely won't offer you new housing, the officials at the embassy are always ready to give you tips and advice to adjusting to your new life — even if it is for a short amount of time. The embassy can get you in touch with local authorities if you experience a crime and connect you with resources (like a car rental agency) when you're struggling. They can also connect you with loved ones back home via the phone and replace important documents. After all, traveling by plane is safe, but missing your luggage might be a very real possibility, even if you are a prestigious diplomat.
So…Who is a diplomat? Is it you?
Do you want to be a diplomat? Traveling might be the easiest part of the whole job. But if you're eager to help others and are willing to travel the world the answer to "who is a diplomat?" might be easier than you think. The best way to survive as a diplomat is by doing plenty of research: research the country to which you will be visiting, research the mission you'll have when you get there, and research who is a diplomat if you're not sure you're ready. Rely on these bits of important information the next time you're considering a career change — and how to travel when you get there.